Welcome to Shark Identification Services
We specialize in:
Facilitating the NOAA/NMFS Atlantic Shark Identification Workshop series
Publishing unique shark identification guides
Providing hands-on shark identification training
Forensic shark identification services for law enforcement
Use the unique flow chart style of
Sander's Shark Identification Guide
to find out which one in a matter of minutes.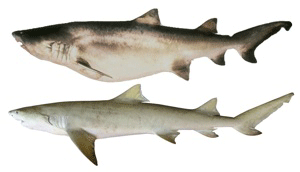 Sand Tiger Shark or Lemon Shark?
State and Federal recreational and commercial shark fishing rules change frequently. It is critical for the shark fisherman, both recreational and commercial, and the commercial fish house operator to know what shark species they are handling in order to remain compliant with the rules. Our shark identification guides were written to enable the user to quickly and accurately make a species identification whether the shark is in whole or dressed out form. The step-by-step identification methods prescribed in our guides and materials leave no room for interpretation when used properly thus enabling an accurate species identification every time.
Browse this site for information about the Atlantic Shark Identification Workshops, workshop curriculum materials, and our Shark Identification Guides.